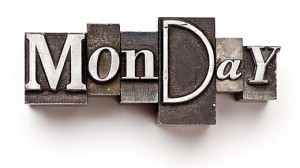 Here's what's coming up on the site this week:
Monday: My weekly preview.
Tuesday: Teaser Tuesday will include something from my current read. I am trying to finish up a few things that I started and set aside, so I think we'll have something from The Taste of Tomorrow: Dispatches from the Future of Food
by Josh Schonwald.
Wednesday: I plan to have some new words from The Taste of Tomorrow
. It's got a lot of interesting info about food technology, so I'm sure I'll run across something new.
Thursday: Catch my review of Bad Little Falls
by Paul Doiron, an audiobook provided by the nice folks at Macmillan Audio.
Friday: A bonus review! This book was a gift from my cousin and if you're a fan of classic cocktails, you don't want to miss my review of The Punch Bowl: 75 Recipes Spanning Four Centuries of Wanton Revelry
by Dan Searing.
Saturday: Saturday Snapshot — I am still going through the archives for Spring photos, since I can't stand looking at the snow outside.
Sunday: Another Quotable — interesting, funny, thought-provoking statements about books and reading.