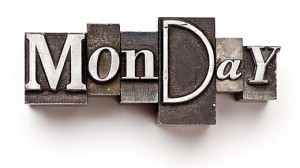 Here's what's coming up on the site this week:
Monday: My weekly preview, plus some new books! I love it when I get new books, and I've got some interesting ones to share with you.
Tuesday: This week, my Teaser is from An Extraordinary Theory of Objects: A Memoir of an Outsider in Paris
by Stephanie la Cava. It made me laugh when I read it, so it seemed perfect to share.
Wednesday: I've got some interesting words for you from An Extraordinary Theory of Objects. It's got some scientific terms, some historical terms, and they are all nicely defined in the text, making it easy to read.
Thursday: I haven't decided which review to run! I have a couple of things still in draft, but there will definitely be a review for you.
Friday: This week, I've got a guest post from Heath Sommer, author of The Manufactured Identity
. You'll love this topic: On Serial Killers and Breakfast Cereal. Plus! I've got a free copy of The Manufactured Identity for one lucky reader. Be sure to check back for it!
Saturday: Saturday Snapshot — more pictures from the archives, unless I get ambitious and get my camera out this week.
Sunday: Sunday Quotables — interesting, funny, thought-provoking statements about books and reading.