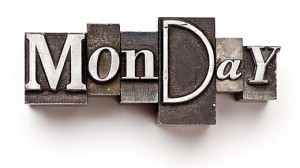 Here's what's coming up on the site this week:
Monday: My weekly preview, plus some new books that came in the mail this week! Also, I'll be announcing the winner of my Giveaway! It's not too late to enter!
Tuesday: Teaser Tuesday means a snippet from my latest read.
Wednesday: I have some interesting words from The Taste of Tomorrow: Dispatches from the Future of Food
to share.
Thursday: My review of It's All Too Much: An Easy Plan for Living a Richer Life with Less Stuff
by Peter Walsh. This was supposed to help me clean up my clutter and get organized; instead it just annoyed me.
Friday: For Friday, I've got a special guest post from a reader who took exception to my comments on this Quotable. We'll see what she has to say in defense of English teachers.
Saturday: Saturday Snapshot — I hope to have some new pics to share.
Sunday: Another Quotable — interesting, funny, thought-provoking statements about books and reading.