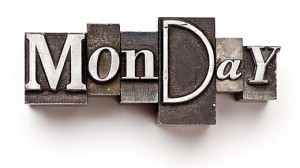 Here's what's coming up on the site this week:
Monday: My weekly preview, plus some new books that I am very excited about!
Tuesday: A Teaser from my current read, Waiting for Sunrise
by William Boyd.
Wednesday: I have some great new words from my new book for Wondrous Words Wednesday.
Thursday: Check back on Thursday for my review of an Extraordinary Theory  by Stephanie laCava.
Friday: I have a guest post scheduled – we'll see if the post shows up from the author!
Saturday: Saturday Snapshot — let's hope I get a chance to take some new pics!
Sunday: Another Quotable — interesting, funny, thought-provoking statements about books and reading.