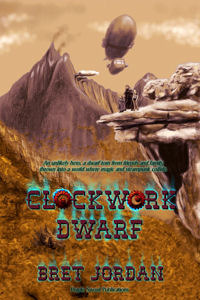 Today, I've got a 2-chapter Sneak Peek from author Bret Jordan. At the bottom of the post, you can read Chapter 1 and Chapter 7 of his book, Clockwork Dwarf
. (How can you resist that title? You know you want to look.)
Here's a bit about the story:
Gustov Stoneheart is an unlikely hero, a dwarf who's magically torn from friends and family, thrown into a world where magic collides with steampunk. A prophecy predicts that he will bring down the human federation, and they hunt him with a passion. Hiding from them isn't easy in the federation's police-state, and Gustov must rethink his deep seated bigotry as orcs, elves, and his own changed kind aid him to make the prophecy come true.
Now, click on the links below to read a few chapters!
And a little about our author…
Bret Jordan at Purple Sword Publications
Social Links:
Website: http://www.bretjordan.com
Facebook: https://www.facebook.com/bret.jordan
Blog: http://bretjordan.wordpress.com/