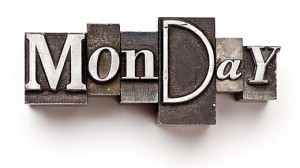 Here's what's coming up on the site this week:
Monday: My weekly preview, plus some new books I'm very excited about.
Tuesday: Teaser Tuesday and a teaser from whatever I happen to be reading.
I had planned on a Chapter Preview, so be sure you check on Tuesday for something special.
Wednesday: I've got an announcement about a free offer that you're going to be interested in. After all, who doesn't love a free book!
Thursday: I have a couple of reviews I'm working on, so there should be a brand new review on Thursday.
Friday: I've got a guest post scheduled from Robert Ferrigno, author of The Girl Who Cried Wolf, about the characters that are all around us.
Saturday: Saturday Snapshot — something is sure to interest me this week enough to take a picture of it.
Sunday: Another Quotable — interesting, funny, thought-provoking statements about books and reading.
That's a little more mysterious than my usual previews, but there are definitely things worth checking back for this week!