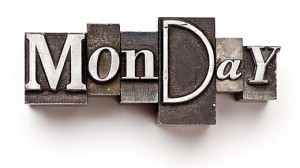 Here's what's coming up on the site this week:
Monday: My weekly preview, plus a few new books that have come in.
Tuesday: Teaser Tuesday – a little snippet from whatever I'm reading.
Wednesday: I've got some new words from my last book and whatever else comes to mind.
Thursday: This week, I've got at least one and maybe two new reviews (to make up for last week).
Friday: I've got a guest post from Stacy Verdick, author of A Luring Murder talking about unlikely inspiration.
Saturday: Saturday Snapshot — Spring is springing all over town and I hope to have some new photos for you.
Sunday: Another Quotable — interesting, funny, thought-provoking statements about books and reading.