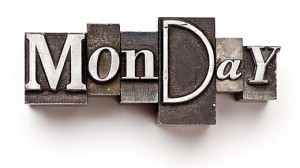 Here's what's coming up on the site this week:
Monday: My weekly preview, plus, if I get a chance, a little bit about some of the books that I've received lately.
Tuesday: Teaser Tuesday and a snippet from my latest book.
Wednesday: Wondrous Words Wednesday and this is a real treat! I've got a link to some amazing obsolete words that you're really going to enjoy.
Thursday: Check in for my review (finally!) of Waiting for Sunrise
. Plus, I've got a sneak preview that got snafued and I am finally getting a chance to post for a book with a terrific title: Clockwork Dwarf
.
Friday: Today, I've got a guest post from Collin Tobin, author of the suspense-thriller, Upload
. You don't want to miss that.
Saturday: Saturday Snapshot — hopefully something more cheerful than last week.
Sunday: Another Quotable — interesting, funny, thought-provoking statements about books and reading.