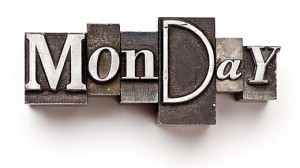 Here's what's coming up on the site this week:
Monday: My weekly preview, plus a delayed review of Virus Thirteen
Tuesday: Teaser Tuesday – a great teaser from a book I just finished: NOS4A2
Wednesday: Hopefully, I'll have some new words for you by Wednesday.
Thursday: Check in on Thursday for my review of The Best of Punk Magazine. I would call it a coffee table book, but I'm not sure punk rockers have coffee tables.
Friday: This week, I've got a great guest post from author Julie Ann Walker. Giveaway Alert! Julie Ann will be talking about her new book, Rev It Up, and about how her travels have influenced her writing. In addition, I've got a copy of Rev It Up to give away to some lucky reader.
Saturday: Saturday Snapshot — I'm still going through old photos, so maybe I'll have more family pictures to share.
Sunday: Another Quotable — interesting, funny, thought-provoking statements about books and reading.