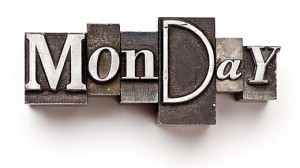 Here's what's coming up on the site this week:
Monday: My weekly preview, plus an update on some new books that I've added to the library.
Tuesday: Teaser Tuesday – a great teaser from one of my new books!
Wednesday: A review from Nanette, my new reviewing buddy. She's going to help we wade through the piles of e-book requests that come in.
Thursday: Come back on Thursday for my review of NOS4AS, the terrific new novel from Joe Hill.
Friday: I am on the road this week, so I have no idea what Friday will bring! Hopefully, I'll have a chance to catch up on some reviews that have been languishing.
Saturday: Saturday Snapshot — I took a couple of pictures on my trip to Indiana last week, and I think I have one to share.
Sunday: Another Quotable — interesting, funny, thought-provoking statements about books and reading.