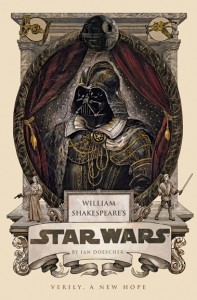 I knew this one was going to be fun the moment I saw the pitch in my email. I have been pretty burned out the Pride and Prejudice and… genre, but this is a little different sort of mash-up. Ian Doescher's William Shakespeare's Star Wars
 is a retelling of the classic sci-fi movie in iambic pentameter. The Bard would be proud.
You know, I recently saw Much Ado About Nothing at the theater – the Joss Whedon version – and loved it, so I'm in a bit of a Shakespeare mood right now. I judge productions of Shakespeare by how quickly I slip into "Shakespeare Mode," that place in your brain where you stop translating the dialogue and start understanding it. With Much Ado About Nothing it happened almost immediately. With William Shakespeare's Star Wars, it's a little different. I didn't so much shift gears mentally, but in my head I started hearing the lines in the book in the actors' voices. C-3PO is the easiest to imagine, but the others come along pretty quickly. Of course, James Earl Jones has such a fabulous voice that Darth Vader makes the transition very well. Chewbacca is another story.
One thing occurred to me while I was reading this, and that was that this would be a perfect teaching tool for English teachers who want to get their young charges into Shakespeare Mode. It would make a great lead-in to other plays, I think – get their ears attuned to the rhythm of the story and the way it's told. After all, Shakespeare told classic, timeless stories about love and betrayal and family, and Star Wars certainly has those themes. If you can tie something old to something new, you can make them both more relevant to readers.
This one comes highly recommended and it hits stores today. Wander over to Amazon and check it out.
I got lucky. My copy of William Shakespeare's Star Wars
 was a review copy, provided free of charge.