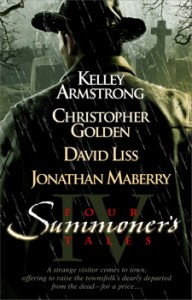 Four Summoner's Tales
starts with an interesting premise. If you could truly raise people from the dead, of course, there would be people willing to pay you to do it, to bring their loved ones back. But wouldn't there also be people willing to pay you not to do it? Could you blackmail that trophy wife, whose 90-year-old husband just left her a fortune? Could you hold a country hostage, threatening to bring back a despotic leader? Four great authors were presented with the idea and their stories made for great reading.
The stories are set in different time periods and locations – a remote, 19th century village; a modern-day Texas border town, under siege from the Mexican drug cartels; war-torn Afghanistan and London in the early 1700's. In each story, the Summoners have a slightly different motive, although profit and revenge figure prominently. Some revel in their ability, while others find it compelling but troubling.
My favorite of the stories was "A Bad Season for Necromancy" by David Liss. Liss is a terrific author – I loved The Whiskey Rebels – and this story is set in merry old England. A social-climbing young man masquerades as a gentleman, and he uses his ability in a very unusual way. It seems to me he could have just as easily used it for paying customers, to bring back their loved ones, but he wanted revenge.
The most difficult for me was "Alive Day" by Jonathan Maberry, set in Afghanistan. A black-ops team stumbles into what is basically a temple to an ancient goddess, and they are completely unprepared for what they find. I found it a little difficult to follow, and I didn't feel the connection to the premise as clearly. It was still an interesting story, but it didn't fit as well, at least for me.
This was a very quick read – I finished it somewhere over the ocean, between Detroit and Amsterdam. (It's amazing how much of my reading is done on planes.) It's a perfect fit for those who like a touch of the supernatural, without the trappings of zombies, vampires and shape-shifters, too common in many books today.
My copy of Four Summoner's Tales
was an Advanced Reader Copy, provided free of charge. For more information and a Google Preview, check out SimonandSchuster.com.