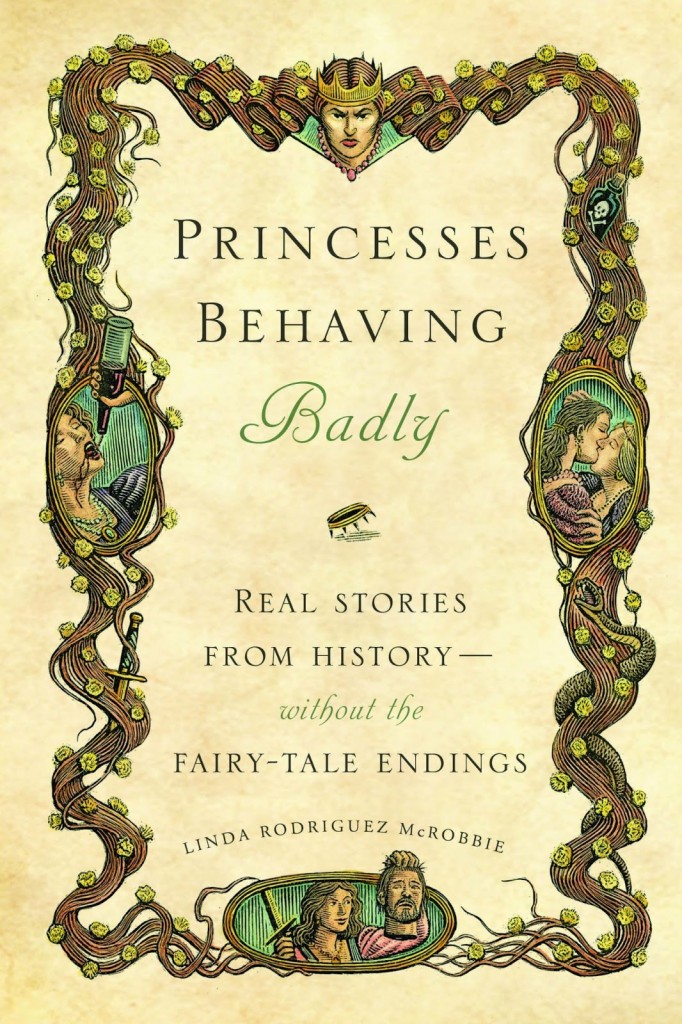 While the Kindle version is half the cover price, Princesses Behaving Badly: Real Stories from History Without the Fairy-Tale Endings
is a hard-backed treasure you'll want on your shelves for inspiration over the years to come.  Douglas Smith's woodcut designs grace the header for each narrative, which ties the stories together.  McRobbie's goal for this book is to make these "princesses" into people, so that they come alive on the page. I would say she has succeeded.
Linda Rodriguez McRobbie explores the lives of women whose stories illustrate strong warrior, usurper, and survivor archetypes.  She saves room for the more notorious as well, including chapters on partiers and floozies.  Even Clara Ward's sitting for Toulouse-Lautrec  along with her homely violinist husband, Rigo, is included. There's a princess story in here for everyone's taste.  These aren't your grandmother's versions of fairy tales. McRobbie takes a feminist perspective that is present from cover to cover. In her introduction, she takes on the Disney princesses. She wanted to provide in-depth role models for young girls.  Like all powerful women, princesses are a prime target for male subjugation.  McRobbie reminds the reader of the determination it takes to overcome the supposed limits of their gender.
The author also has a charming writing style.  One of my favorite quotes was about Pauline Bonaparte's second husband-to-be, Prince Camillo Borghese, "The prince in question was handsome, rich, and well connected.  He was also as dumb as mittens on a cat.". While the adventures of these women are fascinating, sometimes you feel like you're reading more about Paris Hilton than Kate, the Duchess of Cambridge.  According to this book, Pauline slept her way through any available men she could entrap, while Caroline of Brunswick Wolfenbüttel was known for low-cut dresses that showed her nipples.
The text is not sexually explicit, but there are discussions about both sexual frigidity and exploits of these princesses.   The book makes excellent bedtime reading, but I would not recommend it for children.  High-school aged young women and beyond will get a kick out of these enlightening tales.
This book would make the perfect gift for the grown-up princess or history lover on your holiday gift list. My copy of Princesses Behaving Badly: Real Stories from History Without the Fairy-Tale Endings
is an advance reader copy, provided free of charge.
~Christine Linial (from Austinista.net )