I've got some new books from the good folks at Tor/Forge. First, Bloodstone (Rebel Angel Series)
by Gillian Philip: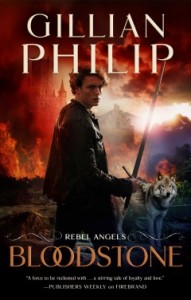 Bloodstone is the second novel in Gillian Philip's critically acclaimed Rebel Angels series, debuting in the United States for the first time.

For centuries, Sithe warriors Seth and Conal MacGregor have hunted for the Bloodstone demanded by their Queen. Homesick, and determined to protect their clan, they have also made secret forays across the Veil. One of these illicit crossings has violent consequences that will devastate both their close family, and their entire clan.

In the Otherworld, Jed Cameron, a feral, full-mortal young thief, becomes entangled with the strange and dangerous Finn MacAngus and her shadowy uncles. When he is dragged into the world of the Sithe, it's nothing he can't handle until time warps around him, and menacing forces reach out to threaten his infant brother. In the collision of two worlds, war and tragedy are inevitable, especially when treachery comes from the most shocking of quarters….
And along with that, I have Ghost Medicine
by Aimee and David Thurlo:
Aimee and David Thurlo's newest mystery Ghost Medicine, featuring Navajo Police Special Investigator Ella Clah.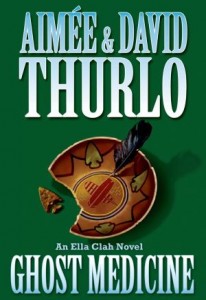 Ella  takes all her cases personally, but some cases are more personal than others.  The murder of Harry Ute is one of those—not only because Ella and Harry dated, years ago, but because Harry was once a member of her investigative team. Ella's team is as close to her as family and a blow against one is a blow against all.

Harry's been working for Bruce "Teeny" Little, a local security expert, but despite their long friendship, Teeny won't tell Ella much, just the job involves theft of government property. The dead man was found in an isolated area of the Rez that is reportedly haunted by skinwalkers and the scattered residents are too frightened of the Navajo witches to tell the police much.

County cop Dan Nez is also looking into the government thefts. The two detectives—each top dog in their own territory—will have to share jurisdiction, something complicated by their growing attraction to each other.

Ella finds evidence that connects Harry's murder to the secret sale of previously unknown Navajo artifacts. If Harry discovered a hidden—and illegal—dig, the artifact smugglers might have killed him to protect their lucrative operation.

Identifying the murderer isn't going to be easy. But Harry was one of her own and Ella is determined to bring his killer to justice.
Be sure to stop back for news and reviews!