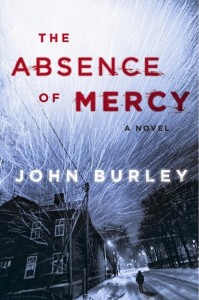 Oooh…this sounds like a good one. I love a good murder mystery, and although I am not familiar with John Burley, this one looks like it will be worth checking out:
John Burley's The Absence of Mercy is a harrowing tale of suspense involving a brutal murder and dark secrets that lie beneath the surface of a placid, tight-knit Midwestern town.

When a brutally murdered teenager is discovered in the woods surrounding a small Ohio town, Dr. Ben Stevenson—the town's medical examiner—must decide if he's willing to put his family's life in danger to uncover the truth. Finding himself pulled deeper into an investigation with devastating consequences, he discovers shocking information that will shatter his quiet community, and force him to confront a haunting truth.

With its eerie portrait of suburban life and nerve-fraying plot twists, The Absence of Mercy is domestic drama at its best for fans of Harlan Coben, Laura Lippman, Jennifer McMahon, and Lisa Gardner.
Be sure to check back for reviews and teasers! For more on John Burley, check out his website.