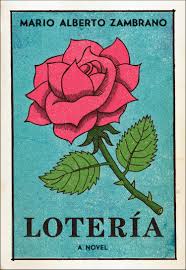 Something bad has happened to Estrella. That much Luz knows for sure – something bad has happened to her older sister and her father is in jail for it. The problem is that 11 year-old Luz is not talking to anyone, not a word, and she is the only one who knows what really happened.
In Mario Alberto Zambrano's Loteria
, Luz is in custody and the counselor, Julia, wants her to talk about her family and about what happened to her sister. Luz doesn't speak to her, but she begins writing in a journal, having long conversations with God about her family, her childhood, and her loteria cards. The cards, a sort of Mexican bingo game, have characters on them that propel some of her stories. For the most part, these are not happy stories; there are serious problems in the family that were clearly coming to a boiling point. Still, Luz manages to share little bright, shining moments in her life, memories of things that made her happy, in the midst of her troubles.
The thing that struck me about Loteria is Luz's voice and the way she tells her stories: they seem so true to the way a young girl would think. Nothing is told in a linear fashion – she is clearly writing about whatever strikes her at the moment – and some seem wildly out of place. She speaks about some pretty terrible stuff – abuse, infidelity, anger – as if it is completely common, as if everyone watches their mother flirting with the doctor, has been abused by their uncle, or has a father with a drinking problem. She shrugs these things off as just part of her life and I suppose that is exactly how a child of that environment would react. I don't have a lot of experience in that area, but it seemed authentic to me, like a conversation with a young child.
I really enjoyed Loteria, in spite of the sad stories. The voice is interesting, and there is enough suspense and ambiguity to keep me turning pages. My copy of Loteria  was an Advanced Reader Copy, provided free of charge.
Pssst! I will be on the lookout for readings and book signings in my area. Have you see the author's photo…