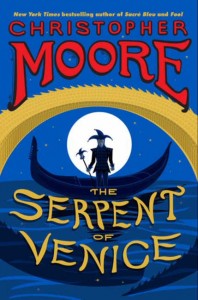 I know this review is a little early. The Serpent of Venice
 by Christopher Moore isn't due out until April 2014. I'm posting it now because (a) the book is still fresh in my mind (in fact, I'm still chuckling over it) and (b) this will give you time to pre-order it or get yourself on top of your library's reserve list. Might as well be prepared. Also, since this was a digital ARC, it will soon disappear from my Kindle, and I want to be sure the review is written before it fades away…
Back in 2009, I reviewed Fool by Christopher Moore, which is sort of a precursor to this novel. The fool in that book, Pocket, is the king's jester. In Serpent, Pocket is back and his enemies are coming for him.
This is a mash-up, bringing some great (and wildly divergent) storylines together. We've got Shylock and his pound of flesh from The Merchant of Venice. We've got Othello, Desdemona and Iago from Othello. And we have an excellent plot device from The Cask of Amontillado. If you're thinking that one of these things is not like the other, you are absolutely right — but Moore makes it work.

As with Fool, there were a ton of lines and passages I marked that it turns out, I can't quote here. While I'm not a family website, as such, the book is pretty vulgar. Downright raunchy, in fact. And I love that about it.
I am not usually a big comedy fan. My sense of humor just doesn't run along the same lines as most people's, apparently. But this is smart funny and believe me, it's funny. I read this on a flight to New Orleans and I just sat there in my seat and laughed myself silly. It was so funny, at least in part, because I was familiar with the source material. I've always enjoyed Shakespeare, and while I wouldn't have combined it with Edgar Allan Poe, it's an excellent combination. There are plots and subplots, intrigues and revenge, a serpent and a monkey named Jeff. I enjoyed every page of it.
My copy of The Serpent of Venice
was a digital ARC, provided free of charge.