I hope you tweeted your special travel photo in the Paris Letters photo contest. If you haven't, you've still got time and to inspire you, today we've got Christine's review of Paris Letters: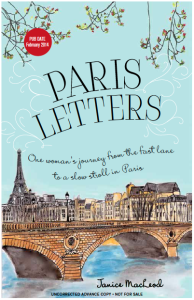 Ah, Paris.  While memoirist Janice MacLeod is a seasoned traveler, she's still enchanted by The City of Light.  Paris Letters
is her love affair documented through pen and paint.  Janice falls in love with freedom, herself, and gains romantic love as a result.  This book takes you on her journey.
It's not all love affairs and macarons, which is one reason I relished the memoir. You're not given a sanitized version of events under the guise of Janice magically having "good luck." Instead, you accompany her on a journey of sacrifice and self discovery. In this pilgrimage, Janice successfully learns how to save $100 per day for a full year ($36,000). This process changed her major relationships and fostered her rediscovery of painting.  (A list of 100 strategies to save $100 per day is listed in an appendix.  It's an incredible read.)
I also enjoyed the parallels between Janice's maturing artist's life and love life.  In the initial weeks of her sojourn, she's scared to use her Canadian French to even say hello to the man she admires (Christophe). By the end, she's found a way to support herself creatively in a city of art.  She discovers a passion for watercolor letters in tandem with her growing love for Christophe (her eventual husband).  By overcoming her fears in one realm, she builds mastery in both.
Overall,  Paris Letters is filled with joy, art, and personal growth.  The watercolor letters are excellent, but can take extra time to load in the eBook edition.  It's worth being patient as an exquisite, jewel-like glimpse into Parisian daily life is the result. In short, a delight.  Some readers might be discouraged by the memoir's broad scope.   In defense, the writing is intimate, yet focused throughout. If you find yourself intrigued after reading this short review, you won't be able to put the book down.
My copy of Paris Letters was an advanced reader copy, provided free of charge.
~Christine Linial (from Austinista.net)