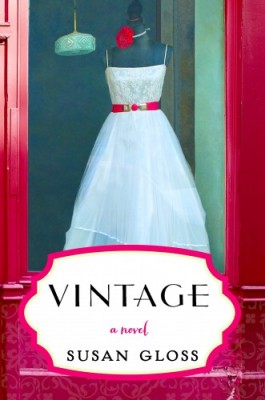 I don't generally review a lot of women's lit, but the story behind Vintage  by Susan Gloss really spoke to me. I love the idea that items in a thrift store all have stories behind them! Someone wore the dress you're trying on, the shoes, the wedding gown; someone sat at the table or read the books. Were those happy times? Did a beloved grandchild play with that teddy bear? I find it infinitely fascinating. In Vintage
,  we meet some of the people behind those stories.
There are three women at the heart of the story. Violet Turner owns Hourglass Vintage in Madison, Wisconsin. Violet has always been a little out of step with her peers;  even in high school she had a retro style. She's built this business – the perfect location, carefully selected vintage items, a growing clientele – and now she may lose it.
April is 18, an orphan, and pregnant. She bought a wedding dress at Hourglass — and returned it almost immediately. Amithi is still reeling from a terrible betrayal when she brings Violet a stack of beautiful Indian garments. While Violet navigates the turbulent waters of a new romance, the three women hatch a plan to save Hourglass, and maybe themselves along with it.
Okay, it's definitely chick lit, but I don't say that as a bad thing. It's about women, about women on their own, making their own way without a man. Yes, there's some romance, but it is really about three women who are (or are becoming) self-reliant. They can't deal with the men in the story until they have their own lives under control – that was a theme that definitely appealed to me. Although I was a little disappointed in one big decision in the book, for the most part these women dig in their heels and refuse to be pushed around.
I really enjoyed Vintage, and I think it will make a great summer read. Telling the story with the items in the shop was a clever way to tie old stories in with new ones, and it really played to my love of thrift store finds and their imagined histories. My copy of Vintage
was an Advanced Reader Copy, provided free of charge. Sadly, it has disappeared from my Kindle (those blasted self-deleting ARCs!), but you can pre-order yours on Amazon, or pick it up at your favorite bookstore on March 25th.
For more on Susan Gloss and her work, visit her website. For more on other new releases from William Morrow, check out their website.