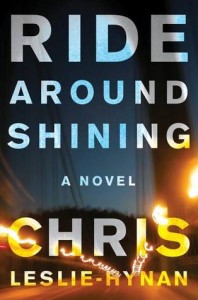 Ride Around Shining
by Chris Leslie-Hynan
A provocative debut novel about a young white chauffeur and his wealthy black employer, an NBA player—a twenty-first century inversion of what we've come to expect stories of race and class to look like, and a discomfiting portrait of envy and obsession.

Ride Around Shining concerns the idle preoccupations, and later machinations, of a transplanted Portlander named Jess—a nobody from nowhere with a Master's degree and a gig delivering takeout. He parlays the latter, along with a few lies, into a job as a chauffeur for an up-and-coming Trail Blazer named Calyph West and his young wife, Antonia.

Calyph is black and Antonia is white and Jess becomes fascinated, innocuously at first, by all they are that he is not. In striving to make himself indispensable to them, he causes Calyph to have a season-ending knee injury, then brings about the couple's estrangement, before positioning himself at last as their perverse savior.

In the tradition of The Talented Mr. Ripley, The Great Gatsby, and Harold Pinter's The Servant—not to mention a certain Shakespeare play about a creepy white dude obsessed with a black dude—Ride Around Shiningtries to say the unsayable about white fixation on black culture, particularly black athletic culture, something so common in everyday life it has gone all but unaddressed.