This week, I've got some new books from the folks at Tor/Forge! First up, Hurricane by Tobias S. Buckell: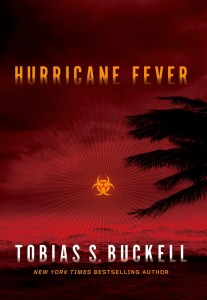 Prudence "Roo" Jones never thought he'd have a family to look after—until suddenly he found himself taking care of his orphaned teenage nephew. Roo, a former Caribbean Intelligence operative, spends his downtime on his catamaran dodging the punishing hurricanes that are the new norm in the Caribbean. Roo enjoys the simple calm of his new life—until an unexpected package from a murdered fellow spy shows up. Suddenly Roo is thrown into the center of the biggest storm of all.
Using his wits—and some of the more violent tricks of his former trade—Roo begins to unravel the mystery that got his friend killed. When a polished and cunning woman claiming to be murdered spy's sister appears, the two find themselves caught up in a global conspiracy with a weapon that could change the face of the world forever.
In Hurricane Fever, New York Times bestselling author Tobias Buckell (Arctic Rising, Halo: The Cole Protocol) has crafted a kinetic technothriller perfect for fans of action-packed espionage within a smartly drawn geo-political landscape. Roo is an anti–James Bond for a new generation.