Another great murder mystery from William Morrow, Ice Shear
 by M. P. Cooley: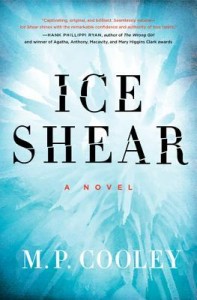 A small town cop's murder investigation turns deadly when she uncovers a web of politics and drugs linked to an outlaw motorcycle gang in this gripping debut suspense novel for fans of Winter's Bone, Frozen River, Breaking Bad, and Sons of Anarchy.
As a cop on the night shift in Hopewell Falls, New York, June Lyons drives drunks home and picks up the donuts. A former FBI agent, she ditched the Bureau when her husband died, and now she and her young daughter are back in upstate New York, living with her father, the town's retired chief of police.
When June discovers a young woman's body impaled on an ice shear in the frozen Mohawk River, news of the murder spreads fast; the dead girl was the daughter of a powerful local Congresswoman, and her troubled youth kept the gossips busy.
Though June was born and raised in Hopewell Falls, the local police see her as an interloper—resentment that explodes in anger when the FBI arrive and deputize her to work on the murder investigation. But June may not find allies among the Feds. The agent heading the case is someone from her past—someone she isn't sure she can trust.
As June digs deeper, an already fraught case turns red-hot when it leads to a notorious biker gang and a meth lab hidden in plain sight—and an unmistakable sign that the river murder won't be the last.