I love a good mystery and this sounds terrific: One of Us
by Tawni O'Dell: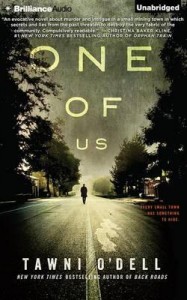 Dr. Sheridan Doyle—a fastidiously groomed and TV-friendly forensic psychologist—is the go-to shrink for the Philadelphia District Attorney's office whenever a twisted killer's mind eludes other experts. But beneath his Armani pinstripes, he's still Danny Doyle, the awkward, terrified, bullied boy from a blue-collar mining family, plagued by panic attacks and haunted by the tragic death of his little sister and mental unraveling of his mother years ago.
Returning to a hometown grappling with its own ghosts, Danny finds a dead body at the infamous Lost Creek gallows where a band of rebellious Irish miners was once executed. Strangely, the body is connected to the wealthy family responsible for the miners' deaths. Teaming up with veteran detective Rafe, a father-like figure from his youth, Danny—in pursuit of a killer—comes dangerously close to startling truths about his family, his past, and himself.