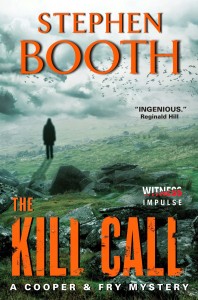 The Kill Call
by Stephen Booth is the first book I've read in the Cooper and Fry series. I'm not sure this is a series I'll keep reading, for reasons I'll get to later, but it's a pretty good mystery.  The story starts on a rainy moor – Sean has come up to one of his favorite quiet, deserted spot, where he goes when he needs to get away from everything. Today, something feels different. There's a smell. And a corpse.
It's an interesting mystery, with a couple of storylines to follow, and quite British, tied up in the odd world of fox hunting. The body was discovered during the annual Eden Valley Hunt, which is hotly protested by animal rights activists. The area was crowded with hunters and the folks who handle the horses, as well as the protesters (referred to as "sabs" or saboteurs by the police) and a host of police officers there to keep them from killing each other. The "kill call" of the title refers to the long, wavering notes on the horn that the hunters blow to call in the hounds to kill the fox. Only in this case, it wasn't a fox.
Detective Constable Diane Fry is in charge of the case and totally out of her depth, although she would never admit it. She's a city girl in a country police district and she has tremendous disdain for the citizens there. She quite clearly turns up her nose at the country life – from the quiet towns to the smell of horses in the barn. She's supposed to be a great detective, but she can't seem to see anything beyond her own nose. Even when she recognizes that she is putting people off, she can't seem to change it. She clearly sees Detective Constable Ben Cooper as a rival, even though he not only helps with the case but tries to offer some personal support. She is so unlikable in this that I can't see wanting to continue with the series. I may have missed some of her character's development, and I know that some people enjoy a story with unlikable characters, but that really isn't for me. If someone has read more of these, I would love to hear about them.
Even with those caveats, it was quite a good read. I enjoyed the various twists and turns of the story, I find Ben Cooper a very interesting character, and I am curious about what happens to Diane Fry – she seems to be at a turning point, trying to get her career back on track and resolve some personal issues. I'm just not sure that I am curious enough to put up with more of her abrasive behavior.
My copy of The Kill Call
was a digital ARC provided free of charge.