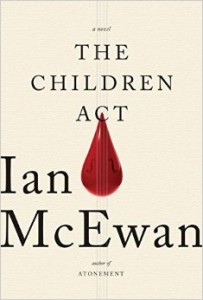 I've read two novels by Ian McEwan, On Chesil Beach
and Saturday
and loved them both, so I was thrilled to get an early copy of The Children Act
. Like the others I mentioned, it's understated and quiet; much of the action in the book happens inside the main character's head. However, I was so caught up in the story, so engaged by her struggle, that I read nearly straight through. Thank heavens McEwan doesn't feel the need for 800 pages to tell a story.
Fiona Maye is 59, a High Court judge who presides over family court cases. She thought she was happily married until her husband came to her with a proposition: he wants to have an affair. He tells her that he loves her, but they have become more like brother and sister and he wants to have one final, grand, passionate affair before he moves into his later years. Fiona is horrified, deeply wounded, and eventually her husband packs a suitcase and leaves Fiona alone and betrayed.
In a way, the rest of the book is about their marriage and how/whether they will come back to each other. It's also a window into how Fiona's cases affect her: a case involving conjoined twins leaves her squeamish about touch and her body. The bitterness and acrimony of divorcing couples makes it difficult to see her own marriage in any other light. But it is the case of Adam Henry, a teenager suffering from leukemia and refusing treatment, that will have the greatest impact, spilling out of the courtroom and into her personal life.
Adam and his parents are Jehovah's Witnesses, and are refusing blood transfusions for religious reasons. He is seventeen, nearly an adult, but without treatment he won't see his eighteenth birthday. Fiona's decision changes everything in his life and leaves him without an anchor, a little lost and at odds with everything he has known. He looks to Fiona, hoping for a touchstone, some guidance, but she pulls away from him.
The Children Act refers to British legislation that makes the welfare and well-being of children "the paramount concern to the courts." On the bench, Fiona can apply that standard easily; she can cut through the warring concerns of parents, social workers, and doctors, focusing on the child at the center of the conflict. Off the bench, she falters. Although Adam reaches out to her, she can't take action to help him and her inaction will also have a price.
Adam's story is heartbreaking and Fiona's is frustrating. Over and over I wanted to shake her, or I wanted something to jolt her out of her structured, restrictive view of the world. I could easily imagine her losing everything in her life that was important to her because she couldn't do something. Then, once Adam's story started, I found the book impossible to put down and finished up about 2 am, both relieved and troubled. It was a fabulous read and I am already imagining the movie that someone is sure to make of it.
My copy of The Children Act
was an Advanced Reader Copy, provided free of charge. It is scheduled for release on September 9th, but I recommend pre-ordering it.