I get to read a book about books and reading! The Year of Reading Dangerously: How Fifty Great Books (and Two Not-So-Great Ones) Saved My Life
 by Andy Miller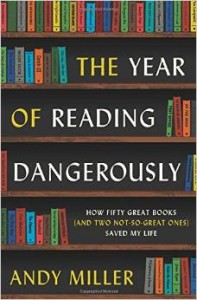 An editor and writer's vivaciously entertaining, and often moving, chronicle of his year-long adventure with fifty great books (and two not-so-great ones)—a true story about reading that reminds us why we should all make time in our lives for books.
Nearing his fortieth birthday, author and critic Andy Miller realized he's not nearly as well read as he'd like to be. A devout book lover who somehow fell out of the habit of reading, he began to ponder the power of books to change an individual life—including his own—and to the define the sort of person he would like to be. Beginning with a copy of Bulgakov's Master and Margarita that he happens to find one day in a bookstore, he embarks on a literary odyssey of mindful reading and wry introspection. FromMiddlemarch to Anna Karenina to A Confederacy of Dunces, these are books Miller felt he should read; books he'd always wanted to read; books he'd previously started but hadn't finished; and books he'd lied about having read to impress people.
Combining memoir and literary criticism, The Year of Reading Dangerously is Miller's heartfelt, humorous, and honest examination of what it means to be a reader. Passionately believing that books deserve to be read, enjoyed, and debated in the real world, Miller documents his reading experiences and how they resonated in his daily life and ultimately his very sense of self. The result is a witty and insightful journey of discovery and soul-searching that celebrates the abiding miracle of the book and the power of reading.