Oh, I loved the last two Douglas Nicholas novels I read – you should check out my review of Something Red. The newest is Throne of Darkness: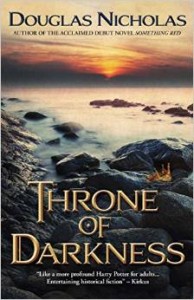 Perfect for fans of Game of Thrones, this novel from acclaimed author Douglas Nicholas continues the gripping dark fantasy series that Kirkus Reviews describes as "a more profound Harry Potter for adults."
It's 1215 in northwest England—the eve of the signing of the Magna Carta—and mystical Irish queen Maeve and her unlikely band of warriors must protect the region from a chilling fate. Word of a threat reaches the Northern barons: King John has plotted to import an African sorcerer and his sinister clan of blacksmiths, whose unearthly powers may spell destruction for the entire kingdom. Along with her lover, Jack, her gifted niece, Nemain, and Nemain's newlywed husband, Hob (whose hidden talents will soon be revealed), Maeve must overcome a supernatural threat unlike any she's seen before.
With his characteristic blend of historical adventure and intoxicating mythological elements, Nicholas once again "goes for the throat…with brilliant writing and whip-smart plotting" (New York Timesbestselling author Jonathan Maberry). This is a richly woven tale that will leave you hungry for more.