This looks like a great historical mystery: The Body Snatchers Affair: A Carpenter and Quincannon Mystery
 by Marcia Muller and Bill Pronzini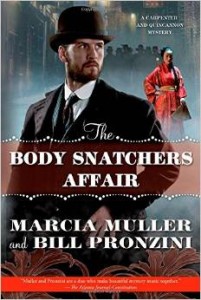 The Body Snatchers Affair: The latest in the Carpenter and Quincannon historical mystery series from Marcia Muller and Bill Pronzini.
Two missing bodies and two separate investigations take Carpenter and Quincannon from the heights above San Francisco Bay to the depths of Chinatown's opium dens. 
For John Quincannon, this is a first: searching a Chinatown opium den for his client's husband, missing in the middle of a brewing tong war set to ignite over the stolen corpse of Bing Ah Kee.
Meanwhile, his partner, Sabina Carpenter, unsure of the dark secrets her suitor might be concealing, searches for the corpse of a millionaire, stolen from a sealed family crypt and currently being held for ransom. 
With the threat of a tong war hanging over the city (a war perhaps being spurred on by corrupt officials), Carpenter and Quincannon have no time to lose in solving their cases. Is there a connection between the two body snatchers? Or is simple greed the answer to this one?
And why is the enigmatic Englishman who calls himself Sherlock Holmes watching so carefully from the shadows?