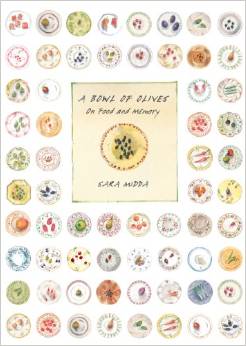 A Bowl of Olives: On Food and Memory
 is a lovely little book, beautifully illustrated with tiny watercolor paintings of olives and figs and rabbits and vegetables and wine bottles. The emphasis is on the word little – on some pages, the writing is so small that it is almost impossible to read. The pages are full of tiny watercolors, small-scale photographs, leaves and flowers and fruits in a wonderful color palette. The paper is heavy and more textured than an average book, and the font is chosen to mimic handwriting. I spent a long flight studying the tiny charts on how to cut cheese correctly, miniature photos of bamboo implements, drawings of dogs and stone walls. 
It is a food-lover's journal of places visited, meals eaten, tastes remembered, There are recipes and recommendations: what to eat in Morocco, perfect foods for summer days and nights, the best way to prepare parsnips. I loved the pages on choosing the perfect mug, food memories, and the chapter on the history of olives and olive oil.
It's really a beautiful book, but I'm not sure what I'm supposed to do with it, now that I have enjoyed the first reading. It's not the sort of thing I'm likely to read again (at least not after I try that recipe for Onions Monegasque). It would have been the perfect stocking stuffer for food-loving friends; I know a number of people who will enjoy reading the tiny print and smiling over the tiny pictures. Whether they will use it to suggest table settings or ideas for onion tarts, I can't say for certain, but it will be a lovely addition to their shelves and certain to bring a smile.
My copy of A Bowl of Olives: On Food and Memory
was an Advanced Reader Copy, provided free of charge.