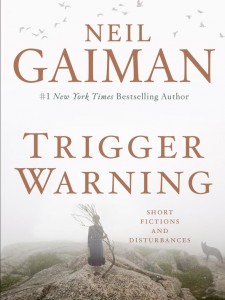 Oh, I can't tell you how excited I was to get a copy of Trigger Warning: Short Fictions and Disturbances
for review! My love affair with Neil Gaiman's writing has been a troubled one – some things I love, some things I don't – but I love short stories when they are well-written and this collection was a treasure. That doesn't mean I loved every one of them, that almost never happens, but there are some that were so good, so compelling, that I was sorry to see them end.
The book starts with a fairly long introduction, which makes great reading if you're interested in a writer's process and how they think about their work. It even contains a little bonus story about The Shadder – I love little hidden gems like this. (Joe Hill's 20th Century Ghosts had a similar bonus story.) There is also a prize beyond measure: a recap of each of the stories and how they came to be. What a fabulous way to start the book! Not only do I get a preview of what's coming, I get a little insight into the story behind the story.
I was torn about whether I should read these intros before I read the story, or afterwards. I opted for before (I don't mind spoilers), but still found that by the time I read each story, I wanted to go back and read the introduction again, see if I remembered correctly, see what I thought about the origins, now that I'd read the story. It added a great deal to the book, and people who skim over it are really missing out.
As I was reading, I kept thinking, "Oh, this will be the story that I say was my favorite" – thought that at least 4 or 5 times and meant it every time. There is a good variety of stories here, not all frightening, not all funny, but clearly all the product of a wondrous imagination. There were stories that startled me, stories that worried me, and one story, "The Man Who Forgot Ray Bradbury", that made me bring up my local library website and check out some more short stories. It brought back some marvelous memories.
I loved "The Thing About Cassandra", the story about a shy young man and his imaginary girlfriend – all well and good, until 20 years later she shows up on Facebook, asking about him. I loved two of the stories in "The Calendar of Tales." In October Tale, we wonder what happens when a happy and contented young woman finds a genie in a bottle and has nothing to wish for. In November Tale, a critically ill woman buys a brazier at a garage sale, planning to burn away old papers…and maybe much more.
My favorites by far were the Sherlock Holmes and Dr. Who stories. In "The Case of Death and Honey," Sherlock solves the greatest mystery of all. I love the way his story is interwoven with that of the beekeeper, and the idea makes perfect sense to me: what on earth would Sherlock Holmes, the man who prefers serial killers to boredom, do when he retired? And "Nothing O'Clock" brings the new Doctor and Amy Pond an even greater and more dangerous enemy than the Daleks: The Kin. I am not a Dr. Who fan; I always think it's exactly the sort of thing I should love, but I don't. This story, however, really captures the spirit of the show, with enough background that even a non-viewer will enjoy it.
And I could go on. And on. There was "Click-Clack the Rattlebag." There was "Witch Work." There was "Adventure Story." So much good storytelling, pared down into bite-size morsels, to be enjoyed in a sitting and smiled over the rest of the day. God, I love short stories – and I think you'll enjoy this collection, as well.
My copy of Trigger Warning: Short Fictions and Disturbances
by Neil Gaiman was an Advanced Reader Copy, provided free of charge.