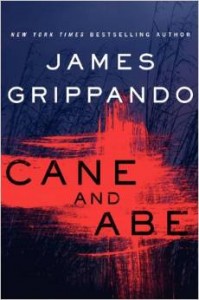 In Cane and Abe
by James Grippando, Miami's top prosecutor becomes the prime suspect in his wife's disappearance. Is she the victim of a serial killer? Or is there a connection to the women in Abe's past?
Abe Beckham is a prosecutor in Miami, married to the lovely Angelina but still hung up on his first wife, Samantha. The relationship between the three of them is pretty complicated: Abe is white; he dumped Angelina to start dating Samantha, who was black. Abe and Samantha married, but Samantha died of cancer. Angelina worked her way back into his life, but I doubt she's ever forgiven him. Now there is a serial killer on the loose, his victims are all in interracial relationships, and Abe's wife has gone missing…
Abe starts out a victim, but quickly becomes a suspect. FBI Agent Victoria Santos doesn't trust Abe and even something as innocent as a broken wine glass seems like a smoking gun. Abe makes some dumb mistakes – as a prosecutor, he really should know better – but as hard as Santos tries, she can't quite pin this on him.
There are plenty of twists and turns in this story, and a lot of tangents that may or may not lead to the killer. There's J.T., Samantha's mentally unstable brother; Samantha made Abe promise to look out for him, but that may be an impossible task. There are untraceable cell phones, a possible connection to a major corporate player, and a storage unit where some long-forgotten boxes may hold vital clues. There are plenty of reasons to suspect any number of characters, and that keeps the mystery humming along. The ending managed to surprise me – though I doubt we've gotten the whole story.
This is a great choice for modern mystery lovers who want a twisty plot, a host of suspects, and any number of ways to interpret the evidence. I love it when a book leaves me with a few loose ends to toy with, so I can unravel bits of the mystery on my own. If you like your stories neatly wrapped up with all the questions answered in the last chapter, this isn't the book for you.
James Grippando spent 12 years as a trial lawyer before becoming a full-time writer. He's published 23 thrillers – Cane and Abe is #22 and Cash Landing, #23, is near the top of my TBR pile. For more about the author, check out his website.
My copy of Cane and Abe
was an Advance Reader Copy, provided by the folks at Harper Collins.