There are so many new books for me to tell you about! I'm going to try and get caught up on the new books I've received and hope to review for you…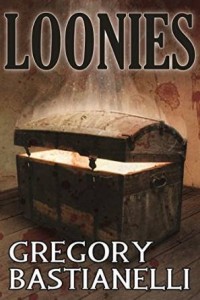 Loonies by Gregory Bastianello:
Smokey Hollow is a quiet town, but all that changes when Brian Keays moves in and discovers a locked steamer trunk in the attic of his home.

A suspicious fire destroys a mental asylum, but there is no sign of any of its inhabitants. Victims are found dead with a pillowcase over their heads, the same method used in an unsolved series of murders, committed over fifty years ago.

Brian tries to piece together the connection to the trunk and its grisly contents, his investigation aided by anonymous notes. He follows the trail from a ventriloquist firefighter whose dummy knows more than its puppeteer, to a Somnambulist whose pockets contain clues, and to a Knackerman who disposes of animal carcasses but keeps a container with its own mysterious contents.

Death is everywhere, but answers are hard to come by.