If you like your recipes sprinkled with f-bombs, then Thug Kitchen: The Official Cookbook: Eat Like You Give a F*ck
 is the cookbook for you. (If you are offended by vulgar language, best to move on to Martha, or maybe the Food52). I am always amused by the folks from Thug Kitchen and their irreverent recipes; I've even got a couple of the Thug Kitchen shopping bags, which occasionally get a double-take from the nice grocery baggers at my favorite store. But the best thing about Thug Kitchen is the recipes. I initially expected frat boy party food, but there is so much good food, so much good nutrition in this cookbook, I was blown away. And the descriptions had me laughing out loud: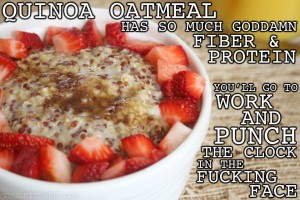 I loved the Lemony Red Lentil Soup. the Pozole Rojo ("Makes enough for 6 hungry people, no fucking problem"), the Coconut-Lime Rice with Red Beans and Mango, and the Cauliflower Cream Pasta with Fresh Herbs – not what I expected to find in this cookbook.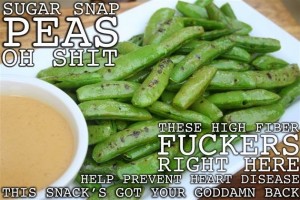 So, I'm a fan. There are a lot of vegetables in this book. There are a lot of great grains – Crispy Millet and Peanut Butter Buckeyes, Roasted Beet and Quinoa Salad, Barley-Stuffed Peppers. The introduction is fun reading. There are helpful tips on kitchen tools. And there are a lot of f-bombs – so many that sometimes, it seems a little forced. But you know what? In the end, it didn't bother me a bit. It's their schtick ("Food so good we swear by it") and it doesn't bother me. The recipes I've tried so far have been great and a couple will definitely find their way into the regular rotation. Might not be everyone's cup of tea, but I bet you know someone who would get a kick out of it — and it is time to start thinking Christmas presents! Add this one to your wish list.
My copy of Thug Kitchen: The Official Cookbook: Eat Like You Give a F*ck
came from my personal cookbook library.