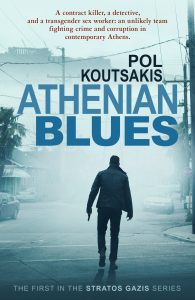 The blurb on the front of the book says it all:
A contract killer, a detective, and a transgender sex worker: an unlikely team fighting crime and corruption in contemporary Athens.
Athenian Blues
by Pol Koutsakis is kind of a buddy story – three good friends, solving a murder. One, Drag, is a cop – a brusque homicide detective who is a bit of a celebrity on the Athens police force. The second, Teri, is transgender prostitute who falls in love with her customers. And the third, Stratos, our main character, is a contract killer with a conscience.
Stratos considers himself a "caretaker." When you have a problem, he takes care of it. He kills the person who is causing your problem – but only if he thinks the target deserves it. He's part detective, part hitman – he doesn't just kill for money, he investigates. I imagine that if he doesn't like what he finds out, if maybe you stretched the truth a little, you might find yourself in a bit of trouble.
His best friend since childhood is Drag, a homicide detective. Drag and Stratos are both in love with Maria, who is married to Sotiris. It's all very complicated and seems a little forced – let's make these characters as different as possible, which makes it seem unlikely they would be friends. If you're friends with a hitman, you're not really fighting corruption, are you? It just seems a bit much.
In Athenian Blues, Stratos has been approached by Aliki – a stunningly gorgeous model-turned-actress. She is married to Vassilis, perhaps the most well-known lawyer in all of Greece. He has a reputation for representing immigrants, unions, the deserving but down-trodden, and getting justice for them. And Aliki wants Stratos to kill him.
There are definitely plenty of twists and turns and red herrings in this plot, which is competent enough. It is also very much a book of its place, and it's a place I'm not familiar with. The culture and personality of Athens and the Greek situation is very much woven into the fabric of the book. It's a modern Greece – the financial crisis, the neighborhoods, the immigrant crisis – and I need a little more time to feel at home in it.
Ultimately, it comes back to the friendships and I just found them a little forced and a little over the top, and that kept me from settling into the story. The book isn't bad and – of course – it's the first in a series. (Why is it no one bothers to write a stand-alone story these days? Making a book the first in a series always seems a little presumptive to me.) It might be that future installments feel more comfortable. If I get to know the characters better, I might find the friendships more genuine, but I don't know if I loved it enough to read the next one. Still, if you are looking for a quick read, a convoluted plot and brand new setting, this might be a winner for you.
My copy of Athenian Blues
by Pol Koutsakis was an Advanced Reader Copy, provided free of charge. Check out more crime fiction set in exotic locales at Bitter Lemon Press.