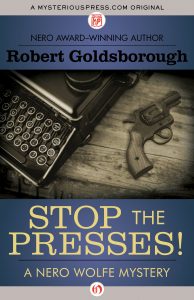 I love Nero Wolfe. I own every single Nero Wolfe mystery, either in hardcover or (sometimes crumbling) paperback — at least the ones by Rex Stout. (Note: I hated the TV series. I thought it was a terrible interpretation of the characters.) I love the books, I can quote many of Wolfe's best lines — I even have The Nero Wolfe Cookbook
on the shelves. Robert Goldsborough's Wolfe novels are really good- they aren't the original, and to be honest, sometimes they don't feel quite right, but Stop the Presses!
 is a great addition to the series.
One thing I appreciate is that Goldsborough isn't afraid to explore some of Stout's cast of characters. I've always wondered about Lon Cohen (among others) – where does he live, what does he do, who are his associates – and this does give you a glimpse at that. He is one of the few people that Wolfe is like to oblige with a favor, so when Cohen asks him to look into death threats against the Gazette's gossip columnist, Cameron Clay. Gossip columnists don't make friends – he has angered a lot of people over the years and there are plenty of people he can think of who would like to see him dead. He's used to the threats and he thinks Lon is overreacting; he refuses any protection from Wolfe and Archie. When he turns up dead, Lon and his bosses at the Gazette have a vested interest in finding the killer.
Goldsborough does a great job of introducing a number of characters and giving all of them good reasons to kill Clay. I love the way this one wraps up! It's an excellent ending with four little words that silence the whole room — words that I did not expect to hear — and I always find Wolfe and Archie a lot of fun.
My copy of Stop the Presses!
came from my personal library.