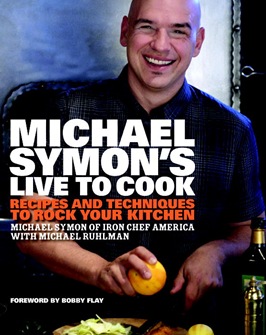 This isn't the first time I've reviewed a cookbook here, but Michael Symon's Live to Cook: Recipes and Techniques to Rock Your Kitchen is kind of special. I grew up in Ohio and I was a frequent guest at Lola long before I ever saw its owner on TV Food Network. That face, that laugh…and that food! As often as we could afford it, we had a table or a seat at the bar and some of the very best food in town.
Lola Bistro is now Lolita and there's a new Lola downtown. We don't hear that laugh as often anymore when we come by for dinner, but we do hear it on Iron Chef America. And it's still the best food in town. Even better, I've now got the recipes for some of my favorite dishes and Symon's advice on how to be a better cook.
I've got a lot of cookbooks on the shelves, so when I buy a new one, I am always looking for something more than just recipes. I can download a million recipes from the internet, but what I need to make a good recipe great is technique. The great thing about Live to Cook is that it provides both – recipes that you'll drool over and tips and techniques to make your guests drool over your food. It's not a textbook, and the tips aren't quite as in-depth as I'd like, but there is definitely information that a good home cook can use: why a microplane will change your life, the herb with the most impact (rosemary), and why you should never throw pig skin away.
There are some fabulous recipes in this book. Symon is known for his love of pork — the man has pork tattoos! — and I have been known to swoon over a dish of pork belly at Lola. I cannot wait to try the Braised Pork Belly with Soft Polenta and Seared Mushrooms, the Roasted Pork with Grilled Peaches and Chestnut Honey, and the Bacon-Wrapped Pan-Roasted Walleye. (The Pappardelle with Pig's Head Ragu is just too much of an undertaking.) I fell in love with the lobster pierogies at Lola and I am looking forward to making the Beef Cheek Pierogies with wild Mushrooms and Horseradish.
You'll also find chapters on side dishes, condiments, pickles and salads. The Ohio Creamed Corn with Bacon is high on my list to try, as well as the Spinach Salad with Fried Egg and Bacon and the Pickled Cherries. It's a good mix of things that I am confident I can produce, things that will take some practice, and things that I will most likely just read about. (A whole pig's head? Really? I don't think so.) That's what I want from any cookbook; I want to be able to walk right into the kitchen and turn out some great food, but I also want some challenges and new techniques to try.
Live to Cook: Recipes and Techniques to Rock Your Kitchen is a cookbook that I will actually read, not just a source for recipes. I was so excited about this book that I broke down and bought a copy — no free copy from the publisher this time. Since I don't have the publisher's permission to share some recipes, all I can do is encourage you to check this one out: it's a fun read, full of tips and tricks and some really great food.