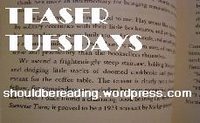 Good morning and welcome to my very first Teaser Tuesday at my new website!  I hope you'll stop back again soon for all my usual reviews, teasers and commentary.  I'm really excited about having a place all my own.
Today's teaser is from 9 Dragons by Michael Connelly.  I love his Harry Bosch novels, and this one is just what I've come to expect from Bosch and Connelly — lots of excitement, plenty of danger, and (sadly) poor Harry taking a bit of a battering.  Poor guy.  He deserves a happy ending.
In 9 Dragons, Bosch is investigating a case with ties to the Triads — Chinese crime organizations that followed immigrants to the US and set up shop in our big cities.  I had never read an explanation of the origins of the triads.  According to Bosch's colleague, Detective Chu, the triads date back to the 17th century, when Manchu invaders slaughtered a group of Buddhist monks in a Shaolin monastery.  But over the years, their purpose has changed:
Much like the Italian and Russian mafias, they engage in extortion and protection rackets.  To honor the ghosts of the slaughtered monks, extortion amounts are usually a multiple of one hundred eight.
Now, I bet you didn't know that!  The Manchu invaders killed 108 monks and to this day, their criminal descendents honor their memory.  Touching, but it's still extortion.
So, what's teasing YOU this week?