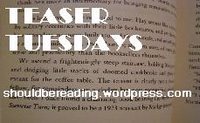 It's Tuesday!  Time for another Teaser!  You know how this works, pick up your current read, open it to a random page and give us 2 teaser sentences.  No spoilers, please.
Well today, I am between books, so I've got a really random teaser.  I opened the next book on my list, The Devil's Star
, and picked a few sentences for you.   I will say this — it sounds romantic, but things may not be as they seem:
"He didn't touch her that first night, he just looked at her, caressed her cheek, told her she was beautiful, more beautiful than she would ever be able to understand, and then he got up.  As he was leaving, he appeared to be on the verge of tears."
So, what's teasing YOU this week?