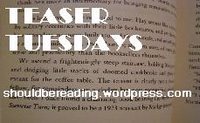 I haven't had a Teaser in ages!  The last few weeks have been busy, but I am really enjoying my current book (that makes such a big difference) and I wanted to post a little snippet.
Now, you know how the game is played: take your current read and pick a little, two-sentence teaser to share with us.  No spoilers, please, but make sure you tell us enough about the book to track it down and read it ourselves.
This week, I'm reading The Rule of Nine
by Steve Martini. It's a great mystery/spy novel – lots of scenarios right out of today's news and the sorts of scary things you could really imagine happening.  It's a great story, and I have learned that you do not want to mess with Liquida, aka the Mexicutioner:
Liquida was furious.  The two lawyers, the daughter and the investigator were gone, and now he couldn't find anybody in the office to kill.
Don't you hate when that happens?
What's teasing you this week?