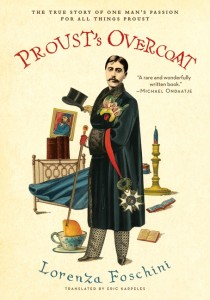 Proust's Overcoat: The True Story of One Man's Passion for All Things Proust
is an interesting little read — a case study in obsession.  It is the story of a book lover, his connections to the Proust's family, and his obsession with preserving the author's writings and possessions.  Author Lorenza Foschini does an excellent job of pulling the threads of this story together into a fascinating — if short — read.
Jacques Guerin grew up in Paris in the early part of the last century.  Born in 1902, his family life was unconventional, to say the least.  His mother, Jeanne-Louise, was married, but not to his father.  Her husband, Jules Giraud, was impotent, and Jeanne-Louis had taken up with a close friend of his, Gaston Monteux.  She had two sons by Monteax, Jacque and his brother Jean, but under the circumstances, they did not live with her.  They lived with a nanny on the outskirts of Paris.   He was described as being very handsome (oddly enough, the first photo of Guerin in the book reminded me strongly of Dwayne Johnson, complete with sunglasses – all he needed was the arched eyebrow). traveled in interesting social circles and managed an extremely successful company, Parfums d'Orsay.  He was a bit of a bibliophile, well read and an occasional collector of rare volumes.  His interest in the writing of Marcel Proust and a case of appendicitis converged to start him on an obsession with all things related to the writer.
As a result of his illness, Guerin came under the care of Dr. Adrian Proust, Marcel's brother.  On a visit to the doctor's home, Guerin was quite taken with the various signed books and mementos that were displayed in the home.  Guerin became known to the family, and used his connections to acquire various artifacts — books, papers, furniture, even the author's hairbrush — over the course of many years.  The lengths he went to included threats, bribery, even haunting the funerals of Proust associates in the hopes of hearing a new anecdote or locating some further piece of memorabilia.  We are fortunate that Guerin was so devoted, considering the attitude of some of his family members, such as Adrian Proust's wife:
"Madame Proust had an almost strident, nasal voice, and it rose above the din in the room to insist that he not speak to her of such things.  She and her husband were mired in a sea of papers.  There was an unbelievable quantity.  But they were certainly going to deal with those masses of notebooks and endless piles of letters.  They would put fire to everything.  They would burn them all.

She regained her calm demeanor, and then smiled broadly at him.  She seemed rather pleased with herself."
If not for Guerin's interference, a portion of history, the thought processes of a great writer, might have been lost forever.
I enjoyed  Proust's Overcoat: The True Story of One Man's Passion for All Things Proust
, but I was disappointed by the size of the book.  I think there was more to say here — about Marcel Proust, about his eager collector, Jacques Guerin, and about the turmoil in Proust's family after his death.  Right now, what we've got isn't much more than a long magazine feature story.  It's interesting and engaging, but too brief.
My copy of Proust's Overcoat: The True Story of One Man's Passion for All Things Proust
was an Advanced Reader Copy, provided free of charge.