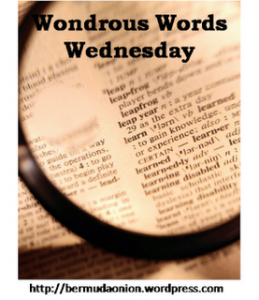 I'm back!  It's been ages since I've had words to post (after my little vacation), but I have some great words this week.
This week, my words are from The Mistress of Abha
by William Newton.  Set in Arabia, it's the story of a young man's adventures and his search for the father he barely knew.  Really good story so far — look for the review next week.
1. Wadi – Arabic term traditionally referring to a valley or dry riverbed
"Descending from it on each side were wadis that carried the winter rains…"
2. Dhow – a lateen-rigged sailing vessel used by Arabs
"Did Somalia export something besides locusts, such as pirate dhows?"
Which leads us to…
3. Lateen – a triangular fore-and-aft sail used especially in the Mediterranean
"Their craft was a zaraqah that had a single mast bearing a lateen sail…"
4. Amanuensis – stenographer: someone skilled in the transcription of speech
"The pieces of the jigsaw puzzle that was the story of Abha gradually fell into place and I never tired of it or of being its amanuensis."
5. Castellations – square indentations like those in a battlement
"…an elaborate qasr built of stone with a roof fortified with castellations…"
6. Infibulation – an act of fastening, especially the stitching together of, the labia to prevent intercourse
"…the maidens' terror increased when one of the deck-hands descended with a bodkin and sailor's tar twine for the purpose of infibulation to ensure against interference and loss of virginity."
Now that is quite an assortment of words!  And I'm only half-finished with the book.
What new words did YOU learn this week?