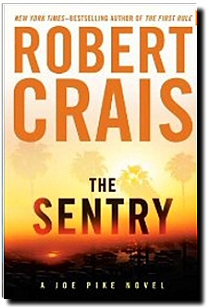 I do love my detectives and their tough-guy sidekicks:  Nero Wolfe and Archie Goodwin, Spenser and Hawk, and now Elvis Cole and Joe Pike.  Elvis Cole is an ex-Ranger with a Mickey Mouse phone, a bright yellow Corvette and a troubled past  Joe Pike is his silent partner — dark shades, distinctive tattoos and very few words.  The bonus for fans like me is that Robert Crais has taken the sidekick in his popular detective series and given him a series of his own — double the reading, double the pleasure for me.  His latest Joe Pike novel, The Sentry
, draws Pike into the problems of a lovely woman and her shady uncle…whether they want him there or not.
Joe Pike is the silent partner for a reason — he doesn't talk much.  He keeps his thoughts to himself and he never gives a two-word answer when one word will do.  He's ex-military, a sniper, and has his own troubled past to deal with.  He is fiercely loyal, which is how he ends up involved with Dru Rayne, and why he stays involved when a lesser man would have thrown up his hands and walked away.
Pike sees an assault in progress and steps in to stop it.  The victim, Wilson Smith, isn't exactly grateful.  He seems unreasonably annoyed with Pike for saving him from a pretty vicious beating.  Then, Pike meets Dru, Smith's niece.  He's immediately drawn to her intelligent eyes, which seems out of character for Pike.  He's too tough and closed-off to be much of a ladies' man, but he feels a real connection with Dru.  She tells him her story and then she disappears.  The official story is that she and her uncle left town, but Pike isn't buying it.  His instincts tell him that Dru is in danger and he looks for her, even as he story begins to unravel.
Elvis Cole also has his part to play in this, and it's not the role he wanted.  No one wants to tell a good friend that someone they care for may be lying to them, but it's what a good friend does.  He is always going to be there for Pike, no matter what it costs.  Their relationship is one of the things I've loved about these novels.
I devoured this book.  I love detective fiction and I am especially fond of Cole and Pike.  They work well together, the story was interesting with a number of twists and turns, and each Pike novel seems to reveal a little more about Joe, the enigma.  I just wish they could tell us more about these guys without ripping their hearts out.
I would strongly recommend The Sentry
to any fan of detective fiction or cop stories.  My copy was an Advanced Reader Edition, provided free of charge by the publisher.