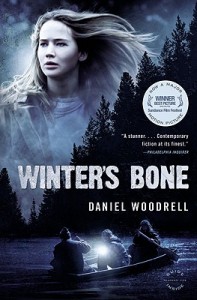 Winter's Bone
is not a new book — it was originally published in 2006. If not for this year's Academy Awards, I might never have heard of it, and that would have been a loss. Daniel Woodrell's story of courage and desperation in the Ozark mountains is beautiful and haunting and deeply moving.  Mostly, I was moved to fury — I wanted to round up every one of Ree Dolly's male relatives and take after them with a shovel!
I was only vaguely familiar with Winter's Bone before I picked up the book; I'd never even heard of it before Oscar nominations came out. It's the story of Ree Dolly, 16 years old and the de facto head of her household. The folks in this hollow have been dealing drugs for decades, whether we're talking moonshine, marijuana or meth, and that has taken its toll on the residents. The burden of keeping families together has fallen, as it so often does, on the women.
Ree dropped out of school to take care of her mentally ill mother and her two baby brothers. Her father, Jessup, seems to have spent most of her life in prison or on his way there. He's got a court date coming up and Ree gets some pretty scary news from the local sheriff: he put up the family home to make his bail. If he doesn't show — and no one has seen him lately — they're going to lose their house. They'll be living, as Ree puts it, in the fields, like dogs.
It's easy to forget that Ree is only a teenager. She makes sure her mother takes her meds, makes sure her brothers get on the bus, chops wood for the stove and tries to stretch what little food they have to keep their bellies full.
"Sometimes when Ree fed Sonny and Harold oatmeal suppers they would cry, sit there spooning down oatmeal but crying for meat, eating all there was while crying for all there could be, become wailing little cyclones of want and need, and she would fear for them."
Taking care of her brothers means showing them how to use a shotgun (in case one of the more rambunctious cousins shows up) and teaching them how to skin a squirrel, so they can put food on the table. And now, she's going to have to find her father to keep a roof over their heads. But not everyone wants to help.
The writing in this book is lovely. It reminded me a bit of The Road by Cormac McCarthy — beautiful writing, but a stark and desperate story. It's the sort of prose that transports you to a place and time, sentences you want to stop and read aloud, that at the same time tear your heart out. It's a terrible situation and Ree will need more courage than a young woman should have to dredge up.
"Her agony was the song and the song held so many voices and Gail lowered her into the bathtub where sunk to the chin in tepid water she marked a slight hushing of all the chorus but the singers in her head."
Usually, reading a book does not make me want to see the movie. I want to keep my own mental picture of the place and the people, because so often the movies are a big disappointment. In this case, I want to see the movie — I want to see the girl who plays Ree. I want to see if I still want to smack Jessup with a shovel, or if the actor manages to make him more sympathetic. From the reviews I've read, I don't expect to be disappointed.
I bought my copy of Winter's Bone
in the bookstore at Chicago's O'Hare Airport. Airport bookstores are very dangerous places for me.