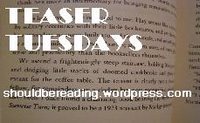 Happy Tuesday!  It's that time of the week when we all gather round the computer and share snippets from our current books.  You know how this works: open your current read to a random page, pick 2 teaser sentences to share with us.  No spoilers, please!  Be sure to tell us enough about the book so we can add it to our TBR List.
This week, I'm reading Dark Prince by Christine Feehan.  The book is the start of her Dark series and it is not something I ever would have requested, but it's been kind of fun.  Pure, cheesy vampire romance, with delicate heroines, chiseled dark heroes, danger, suspense, wolves…and wild hot sex on the floor in front of the fireplace.  I don't think I've read anything quite like it since high school and it's kind of fun.
"'I don't fear you, Mikhail,' she denied gently, tipping her face up to study his in the moonlight. 'I fear for you.'"
You knew there would be moonlight, didn't you?  Check back later this week for the vampire romance reviews!