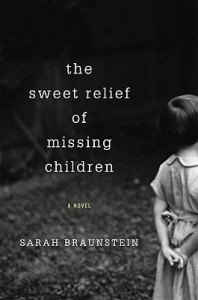 The Sweet Relief of Missing Children
begins with the story of Leonora.  She is pretty and tidy and protected. She has her vaccinations, she knows not to talk to strangers, she eats her vegetables and she never takes the shortcut through the alley.  She is precious to her parents and she understands these precautions because she understands that she cannot be both precious and free.  In the end, none of it matters.
Sarah Braunstein's novel begins and ends with Leonora, but woven throughout the book are the stories of other people, other missing children, who are tangentially connected to Leonora. Their lives are sad and desperate and although it seems like something could be salvaged from them, nothing ever is.
This is not a novel for people who like straightforward story-telling. (I seem to say that a lot lately — lots of twisty story lines these days.)  Bits and pieces of stories are woven together, forward and backwards in time, and it was sometimes hard to keep everything straight. These are all people whose lives brush up against each other — some of them are related, some of them are simply acquainted — but each brush makes a mark.
There was poor Paul, a lonely boy whose mother leaves him home alone on his birthday. Thomas who can't stop himself from watching Goldie, Paul's mother, usually through her windows late at night.  There's Sam, a nice young man who wants desperately to be a bad boy, and Judith, who really was a bad girl. Joe and Constance and their interrupted honeymoon, and their new stepson, Sam. Sam helped rescue Judith, but left Helen behind…and then there's Helen's strange and striking encounter with Constance.
Their lives intersect in unexpected and intriguing ways, but it can be difficult keeping them all straight. Perhaps that's part of the appeal — I would work my way through a chapter, a wedding, an argument, and then suddenly realize that this must be the same person as in an earlier chapter, only a different part of the timeline. I enjoy that, I enjoy the confusion and sense of discovery you get, but that doesn't appeal to all readers.
I enjoyed the book, but in the end, it didn't really move me. I haven't felt the urge to tell people about it, to recommend it to other readers, as I have with other books I've finished more recently. Good, but not great, I suppose. It would make a great book club selection — there is so much that would make for good debate, and so many potential discussions about the timeline and the choices the characters make, but it isn't something I'm likely to re-read on my own.
My copy of The Sweet Relief of Missing Children
by Sarah Braunstein was provided by the publisher through LibraryThing's Early Reviewer program.
Interested in this one?  Check back tomorrow to win a copy!