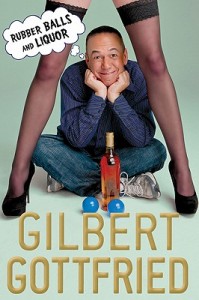 How do you transfer a comedy routine to the printed page? It's not easy and it is bound to lose something in the translation. For some comedians, the joke is in their body language, or their facial expressions. Or their voice.
In the case of Rubber Balls and Liquor
, it's pretty simple: if you find Gilbert Gottfried's comedy entertaining, you'll probably enjoy the book. Lots of self-deprecating humor, a lot of dick jokes, lots of jokes about being Jewish, and some good celebrity stories. I thought it would be a pleasant change to get the funny stuff without the annoying, grating voice, but it didn't really matter. I heard the voice in my head anyway.
The book starts with an introductory section on why he's writing a book and he's got pretty modest goals:
"I want the book to be the literary equivalent of a slice of pizza and a grape drink. That's all. It might not be a gourmet meal, but it should at least be filling."
That's aiming pretty low, but that's familiar territory for Gottfried. This is, after all, the guy who lost the AFLAC job after offensive tweets about the recent earthquake and tsunami in Japan. It's not really highbrow humor…but it is funny.
There are some great celebrity stories in the book. He pissed off Marlon Brando with a joke on Hollywood Squares. He convinced Harrison Ford he didn't recognize him.  But the one that really made me laugh was the story about being in the row behind Kiefer Sutherland on an airplane:
"A couple minutes later, the stewardess stopped at Kiefer Sutherland's row, and asked in her most professional, hostess-y voice if he would like a set of headphones.

'What's the movie?' Kiefer Sutherland asked.

'Julia Roberts in Runaway Bride,' the stewardess answered."
If you don't know why this is funny, you need to brush up on your celebrity break-ups.
This book is probably not going to be a big hit with people who aren't Gilbert Gottfried fans. Like I said, I heard Gottfried's voice inside my head. The book is full of dirty jokes, foul language and ethnic slurs. I find that funny, but not everyone will. It's best read in small doses — no comedian is funny after hours and hours of material — but it was still a pretty good read.
Curious about the title?  Check out Urban Dictionary for an explanation.
And now…the Giveaway!
So, wanna check it out for yourself? I have a signed copy of Rubber Balls and Liquor
to give away to one lucky reader! Just fill out the form below (don't worry – it doesn't show up in the comments, so your email and info is safe).  Here are the rules:
1. Contest runs through Wednesday, June 8th at 5:00 pm EST.
2. Contest is open to readers with US and Canadian mailing addresses.
3. You get one entry for filling out the form. You can get additional entries for tweeting or blogging about the contest (you must include a link to this post) or for talking this up on Facebook. Please let me know in your entry form what extra entries you have earned.
4. The winner will be notified by email, so please make sure you provide a valid email address. You will have 48 hours to respond or I will choose another winner.
Good luck!
A special thanks to the folks at Zeitghost Media for providing my review copy and the free giveaway copy!