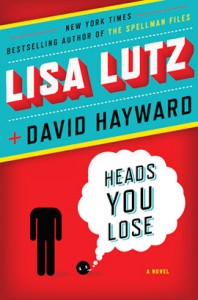 Heads You Lose
starts with a very clever idea: crime novelist Lisa Lutz asks ex-boyfriend David Hayward, a published poet, to collaborate on a mystery novel with her. Lisa writes the first chapter and sends it to David; he writes the second chapter and sends it back. They alternate, odd and even chapters, and manage to write a funny, interesting crime novel with some great twists and turns. The story is good, but the interaction between the two co-authors (their footnotes on each other's chapters and their emails between chapters) is better.
They had a few simple rules:
"Lutz would write the first chapter and all odd-numbered chapters thereafter. Hayward would write the even ones. They would not outline or discuss what they were working on. Each author would read the other's chapter 'blind.' Neither author was allowed to undo a plot development established by the other."
I think Lisa cheated on that one a little.
Paul and Lacey Hansen are siblings sharing a home in rural Northern California. Their parents were killed in a freak accident and currently they make their living growing and selling pot. So when a headless corpse is dumped on their property, they can't really risk calling the sheriff. They move the body, they wait for someone to find it, and someone does — Lacey, a few days later, dumped in their driveway. And she may know who it is.
It's a great beginning! It's got all kinds of possibilities. You could really plot a terrific mystery from a lead-in like this. Of course, our collaborators aren't plotting much of anything — they write a bit, hope the other follows their lead (they don't) and then the fireworks start.
Our authors bicker like siblings.  By the beginning of chapter eight, they are sniping about a road trip to Reno a decade earlier and when they should have stopped for gas on the drive into the desert. They fight about vocabulary, they fight about plot points, they fight about who is the more accomplished writer and they are not above threatening each other's favorite characters to make a point. If David wants to hang onto Paul's stripper girlfriend and Irving, the cat, he had better stop threatening Doctor Dreamy! The bodies are starting to pile up.
The mystery is fun (I think Lutz and Hayward are both good writers, even if they bash each other a little), but it is interesting to read it knowing they are truly making it up as they go along. They obviously identify with the siblings and are living vicariously through them — sometimes to great comic effect. A clever, original idea and very well executed.
Lisa Lutz is the author of the Spellman series of comedic crime novels. According to his bio, David runs a small writing and editing business in Healdsburg, California, where he does not grow pot or have a cat. My copy of Heads You Lose
is an Advanced Reader Copy provided by LibraryThing Early Reviewers.