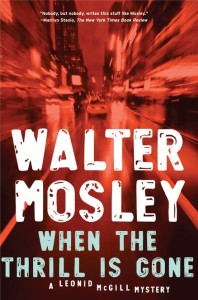 Leonid McGill is a former thug, trying to go straight. He was a bad guy who worked for bad guys, but he doesn't want to be that guy anymore. Unfortunately for Leonid, there are too many ties to his past and no one — from organized crime kingpin Harris Vaartan to honest cop Carson Kitteridge — is willing to let him forget it in Walter Mosley's When the Thrill Is Gone
.
When a beautiful woman tells a detective she needs his help, he's almost obligated to rescue her (at least in the fiction aisles). Even though McGill knows that Chrystal Tyler is lying to him, he takes her case. She has a stack of cash, he needs the money and he has problems of his own: a cheating wife, a son with a budding criminal career, and a best friend with not long to live. What are a few lies with all that on his plate?
A lot, it turns out. Chrystal has lied about…well, just about everything. McGill is not the sort of guy to just drop it and move on — you know he is going to get to the bottom of the mystery. There are people depending on him and he doesn't like being lied to.
I absolutely love this series. Leonid McGill is a great character: he's got an interesting past, a plan for the future, and morals that are flexible enough to keep his past nipping at his heels. He's a good man, at heart (that's practically a requirement), he's strong and brave and loyal to his friends, willing to go to great lengths to do what's best for people. His family is kind of a disaster. He knows his wife is cheating on him, he knows that their daughter isn't really his, he's afraid that his oldest son's affair with a crazy Russian girl is going to end badly. He dearly loves his youngest son, Twill, who is fearless and brilliant, but has not yet developed his father's moral compass. (In an earlier book, McGill put a stop to Twill's plan to murder a friend's father because the father was molesting her.) He wants to find a way to save Twill from himself without squashing his spirit.
Amidst the family drama, there is plenty of action and mystery. Hidden identities, stolen children, threats and arrests and gunfire are all on the schedule; there might even be time for some old-fashioned lust. Still, when McGill has the chance to help a random girl he meets in the train station, he jumps right in. How can you resist a tough guy with a heart of gold?
This is the third book in the Leonid McGill series. I've read The Long Fall
, but somehow, the publisher forgot to send my copy of Known to Evil
; I need to do something about that. Walter Mosley is the author of more than 30 novels, including the acclaimed Easy Rawlins mystery series, which began with the classic Devil in a Blue Dress. My copy of When the Thrill Is Gone
was an Advanced Reader Copy provided free of charge.