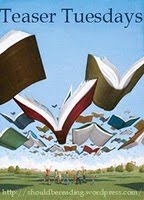 I am about two-thirds of the way through Blood Trust, the third book in Eric van Lustbader's Jack McClure series. Loved the first 2, loving this one, even though (or maybe because) it's hard to see my way through the puzzle to a good ending. Gonna be a wild ride!
You know the rules for Teaser Tuesday: Grab your current read, open to a random page, share two (2) "teaser" sentences from somewhere on that page, BE CAREFUL NOT TO INCLUDE SPOILERS! and be sure to share the title & author, too, so that other TT participants can add the book to their TBR Lists if they like your teasers!
So, here we go…
"She heard his breath first, then felt him on top of her as she struggled to regain her footing.

'Got you now, you little bitch,' Rudy said."
What's teasing YOU this week?