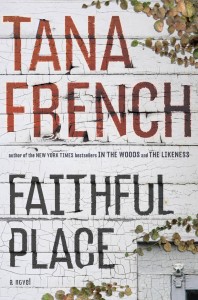 The folks at @PenguinUSA are awesome!
These nice folks had a little contest on Twitter. They were celebrating the release of Tana French's new novel, Faithful Place
, and to win a copy, all you had to do was name her two previous books.
Well, that was easy! I didn't even have to Google; I've got one on my shelf and one on my wishlist. I never enter those Twitter contests because I always figure I will be too late, but this was really tempting, so I hit reply. A few minutes later, I was a winner!
Now, as if that isn't great enough, the book showed up today! That is crazy fast! Someone at Penguin USA walked right down to UPS and sent that book on its way and I could just kiss them.
So, a big thanks to the folks at Penguin – I will definitely be on the lookout for more of their contests!